My Udaipur to Jodhpur was over and i had reached my hotel "Mandore Guest House" . I had two nights stay at Jodhpur including the one on which i arrived , so in total i had only one day for Jodhpur. But presently after such a long journey after so many stop overs ( Read
Om Banna
,
Ranakpur temple
,
REHET
and
Waterfall
), i was badly tired and didnt had any energy to even plan out anything for tomorrow , so just had a nice heavy dinner and left for bed , though one thing was fixed next day i had to start early to cover whole jodhpur in a single day.
Next Day started , it was early morning and i was ready to leave my hotel at 8.00 AM , my first destination of the day was Mandore Garden , which was just opposite to my hotel. But Mandore Garden had nothing much to see so prefered to start my Jodhpur series from Mehrangarh fort.
[caption id="attachment_873" align="alignnone" width="1024"]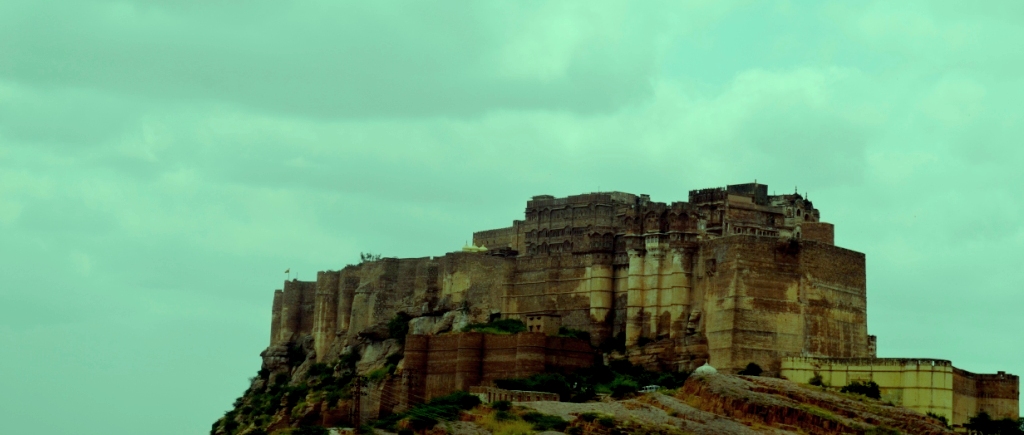 Mehrangarh fort view from the Car
[/caption]
Mehrangarh fort was some 15 min away from my guest house. About it grand structure i was already being told by my driver Shyam , as he has been here many a times. This fort is the only fort in India with a working elevator in it , as it is a 12 storey fort and infact one of the largest of forts.
I was about to reach Mehrangarh fort and the first glimpse from almost entering it was Wow , and suddenly i was in a thinking mode. I had never thought that Batman had reached to Jodhpur for a very scene in which he came out from inprisonment , I am talking about The Dark Night Rises movie of Batman series , a little portion of it was shot here just in front of Mehrangarh fort , even some scenes from inside were included.
[caption id="attachment_874" align="alignnone" width="1024"]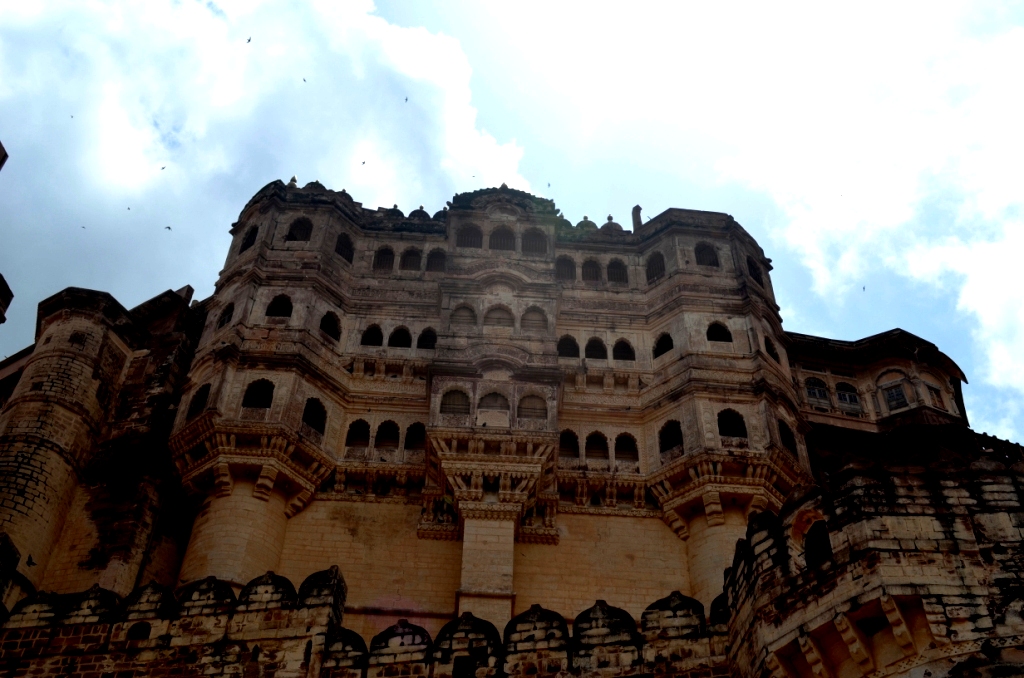 First glimpse of Mehrangarh Fort
[/caption]
I bought a ticket of Rs 30 per person for the elevator to reach directly to the top of Mehrangarh fort , as it was best to go directly to the top rather than going 12 stories of Mehrangarh fort , it is not like that i am not used to of climbing stair , i live on the fifth floor that too in a building withour lift and almost daily i give some 20 rounds up an down the stairs , but it was much different scene forts have much higher floor heights and their stairs are also very un even , so go for lift and start the tour of Mehrangarh fort from the top.
[caption id="attachment_875" align="alignnone" width="1024"]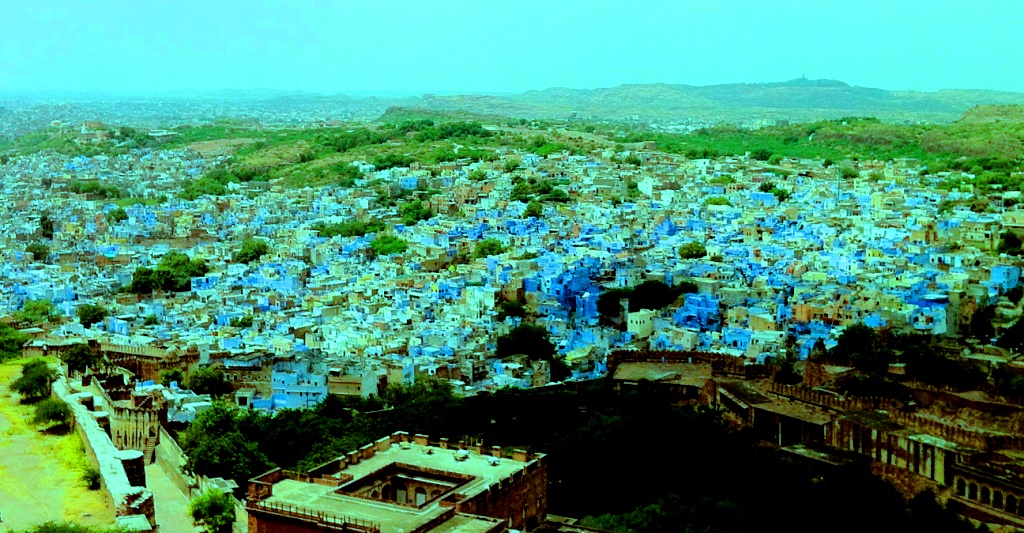 Jodhpur , the Blue city from the top
[/caption]
[caption id="attachment_876" align="alignnone" width="1024"]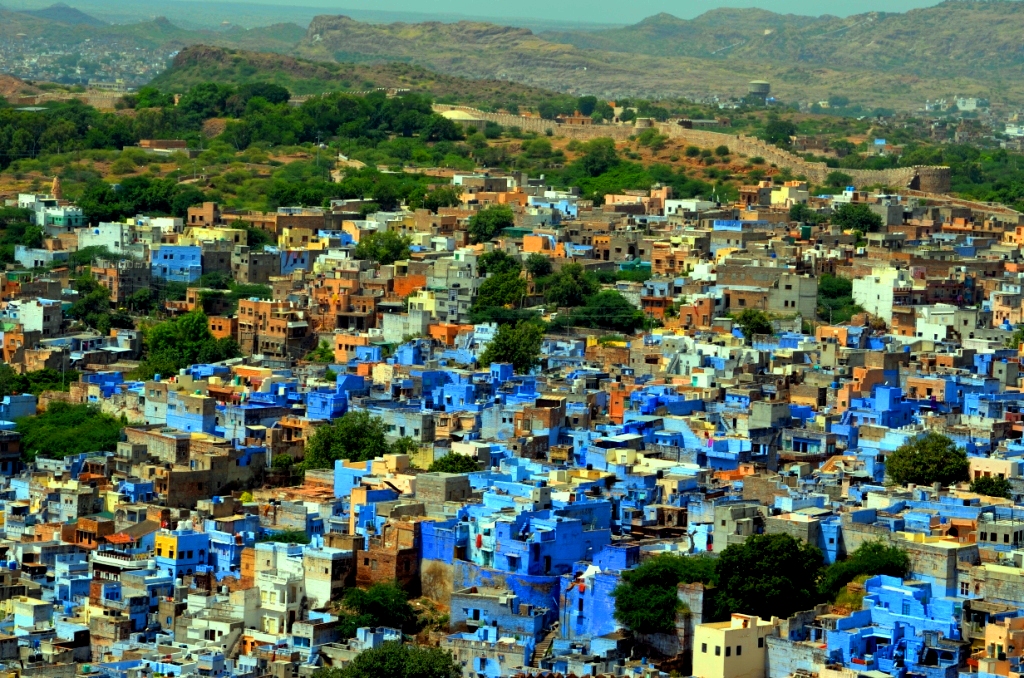 Blue City from Mehrangarh fort ... a pic from my iphone
[/caption]
I was watching the Blue City , also called as Sun City because of bright sun rays falling all year round. Now Jodhpur is considered as the second metropolitan city of Rajasthan after Jaipur.
But this blue coloured houses could be seen only around the Mehrangarh fort , some say because of being the Sun city it was decided to give it a different look and blue colour was chosen to highlight the fort city.
[caption id="attachment_877" align="alignnone" width="1024"]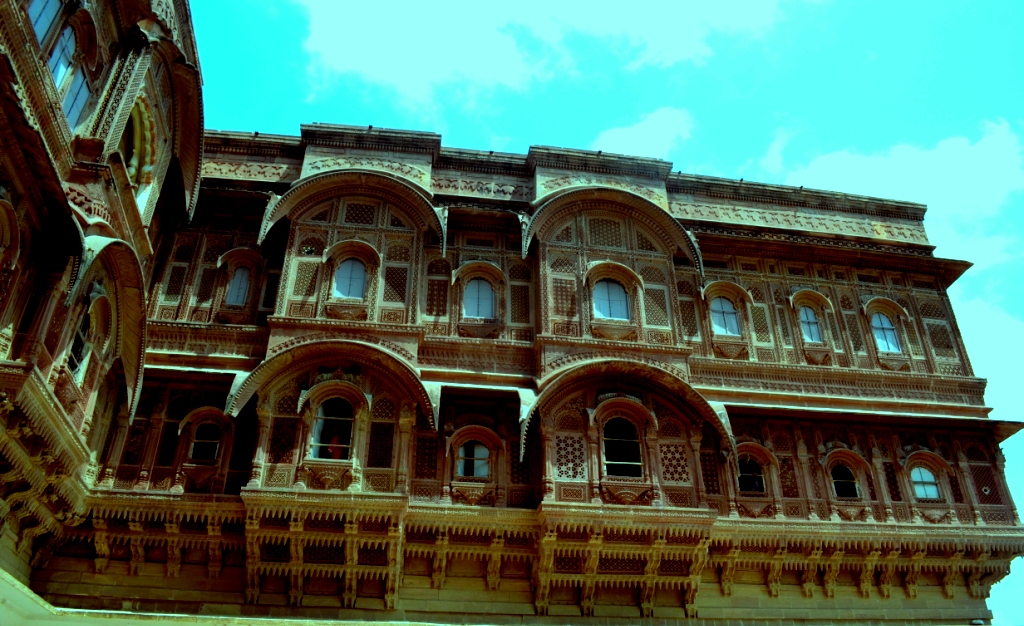 Balcony Of the rooms where queens used to sit
[/caption]
[caption id="attachment_878" align="alignnone" width="1024"]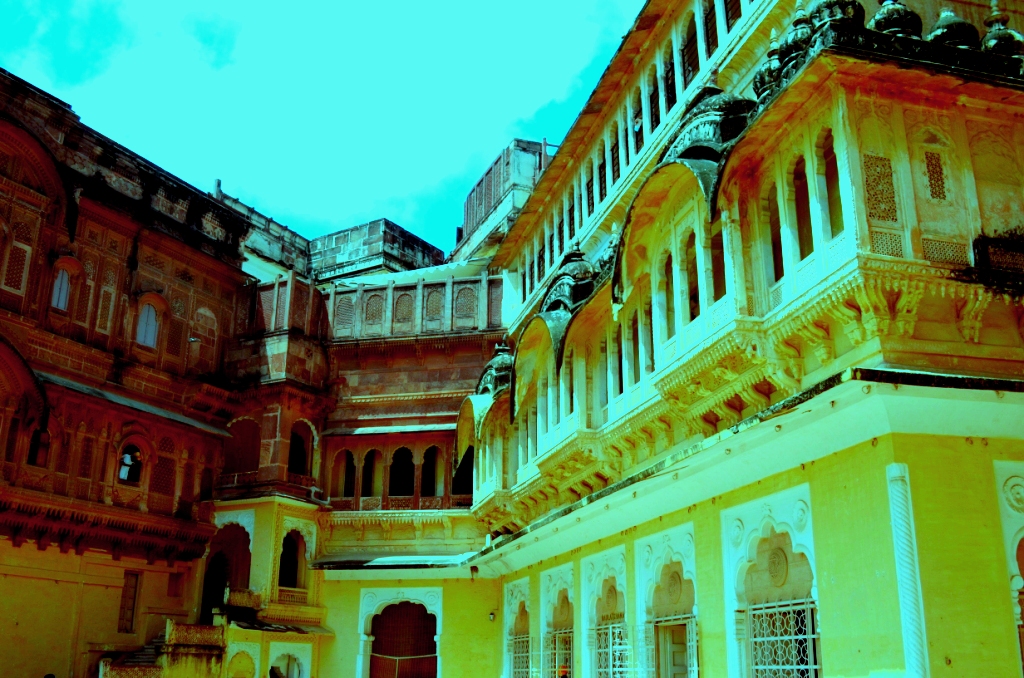 Inside courtyard of the fort
[/caption]
It has been in the culture of Rajasthan , Queens were never allowed to come out in front of the public so they were given the feasibility by giving them these royal windows carved in a design where they could sit and see the daily proceedings of the fort or have a view of the city. Same thing i had seen in Jaipur when i visited
Hawa Mahal of Jaipur
.
[caption id="attachment_879" align="alignnone" width="1024"]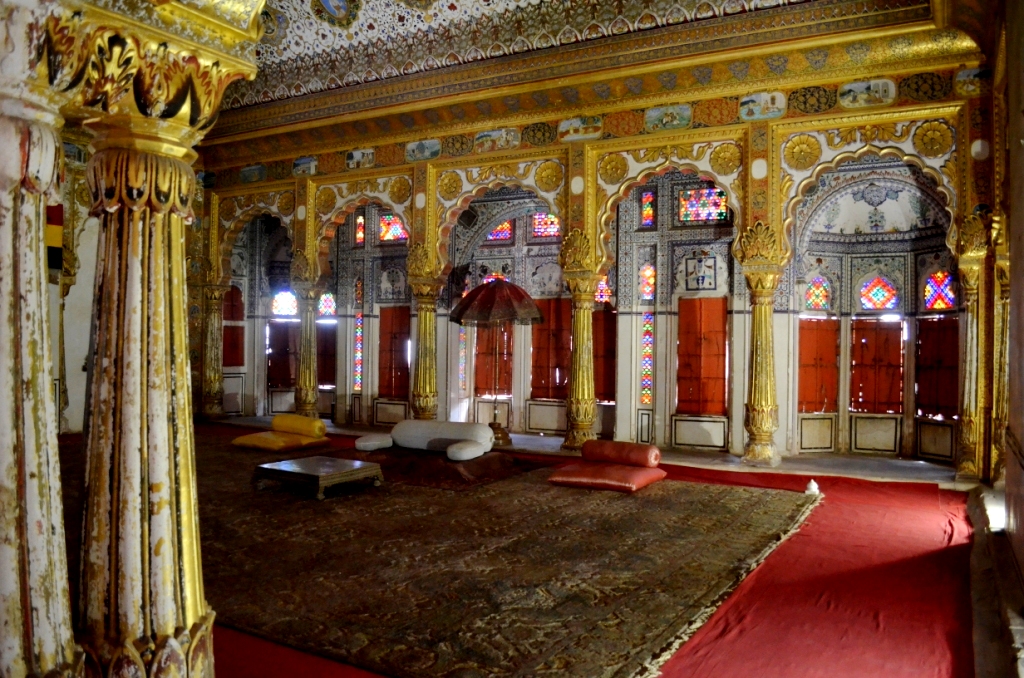 Darbar Hall of Mehrangarh Fort
[/caption]
[caption id="attachment_880" align="alignnone" width="1024"]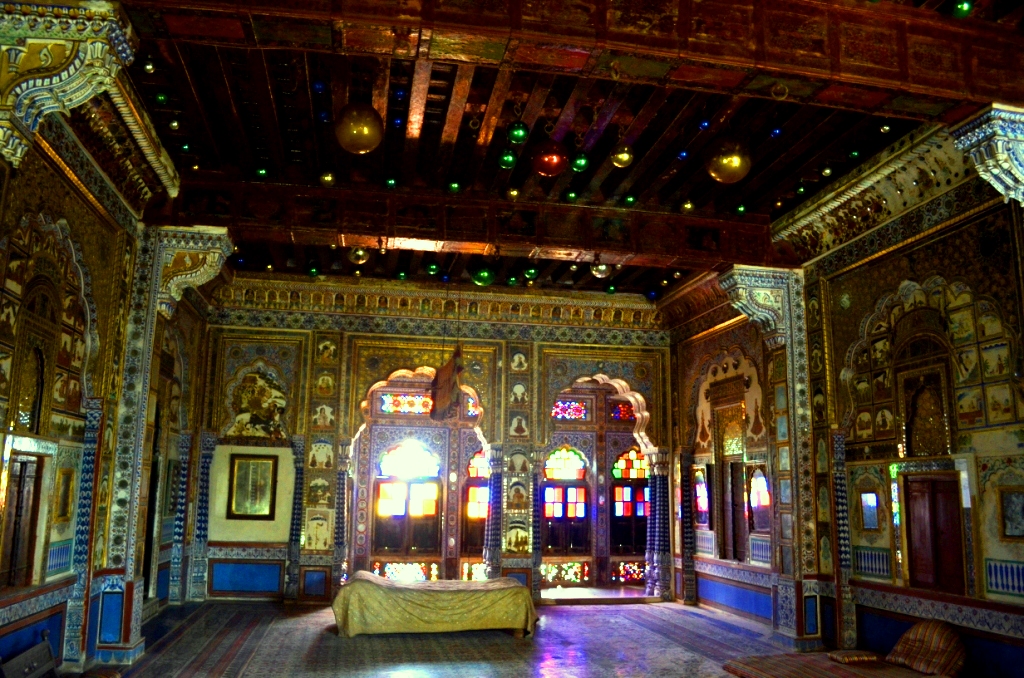 Takhat Vilas, a room made of gold and shining glasses
[/caption]
It is very rightly said " India was golden bird once " and to feel this line one must visit the fort of India , it is not in Rajasthan only , wherever we go in India every royal family in past have shown there royalty by making rooms decorated with gold plated plates or carvings having gold paint on them made of real gold , luckily gold was not that costly at their times.
This Darbar hall of Mehrangarh fort , as one can see the pillars and the roof have been decorated by gold paint which was made by real gold dust mixed in oil.
Same was the case with this Bedroom of one of the kings, called as Takhat vilas. It was way ahead than the Darbar Hall , real gold plates were moulded and carved into the designs of the bed room , rest of the portion was covered with glasses brought from Belgium. Wow what a life they lived , couldnt understand why they could not sleep in a normal bed room.
[caption id="attachment_881" align="alignnone" width="1024"]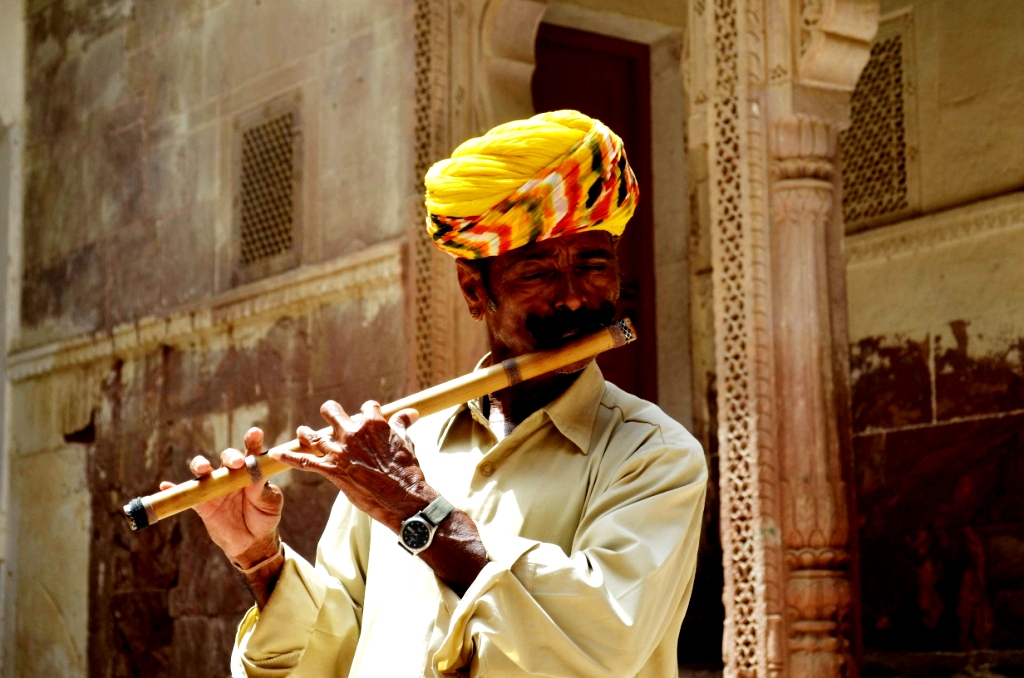 Met this man.. playing flute
[/caption]
It took some 2 hrs to complete the tour of Mehrangarh fort , and while i was going through the museum of Palanquins , where royal palanquins used on every birth of a child were displayed , but when somebody would visit i am sure he would also notice the same thing which i noticed. Palanquins of only kings were placed there on display with there small picture on them , but i couldnt see any palanquin where a small picture of a princess would be displayed. Was that not in fashion that time to use Palanquins for a girl child , still a mystery for me waiting for answers.
There only i met this guard , who was very much deep into the flute and was entertaining the crowd. He was playing flute so well that i sat there for some 10 min and heard his flute , though i can say i was tired also after almost completing this 12 storey Mehrangarh fort of Jodhpur. I gave him Rs 20 and bid adieu to him and the fort and left for my next destination which was just 5 min walk from there , The Jaswant Thada mausoleum.